Do you want to look after the hygiene of your business and make your customers feel at ease? Stretcher paper rolls are what you're looking for.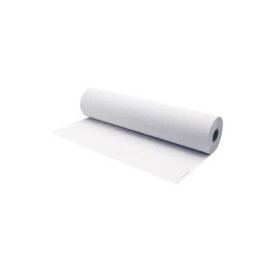 Paper Stretcher sheet roll Pre-Cut White 0.58x70m (1 Unit)
Ref. 9783-1
1 Units
Price From
Price
8 , 65 €
In Stock
Paper Stretcher sheet roll Pre-Cut White 0.58x70m (6 Units)
Ref. 9783-1-6
6 Units
Price From
Price
41 , 40 €
In Stock
If you're wondering where to buy stretcher rolls, look no further. At MonoUso you'll find everything you need.
WHY USE ROLLS OF STRETCHER PAPER
You take care of the hygiene of your business.
Cleaning feeling and care for the customer.
Practical and disposable.

Spas, spas, massage centers, beauty and esthetic centers, hospitals, health centers, physiotherapy centers, dentists... There are many businesses where a roll of disposable stretcher paper and a roll of industrial hand drying paper are indispensable.
The roll of stretcher paper is ideal if you want to offer your customers a sensation of extreme cleanliness. Thanks to its single-use character, you can renew the stretcher paper with each client, so that you can transmit a maximum care and hygiene effect to them.
Thanks to its softness, your clients will not feel uncomfortable. Moreover, since they are made of paper, the paper rolls will absorb any liquid that is spilled. This will keep your workspace clean for longer and save you the trouble of cleaning the table between clients.
If you are looking for a cheap roll of stretcher paper in MonoUso we have two different models: on the one hand you will find the curly paper stretcher roll and on the other hand the pre-cut stretcher paper roll that makes cutting easier and faster.
Join now the care of your business!
See more
See less